Absorbine ShowSheen Stain Remover & Whitening
£12.99
CODE: DC1936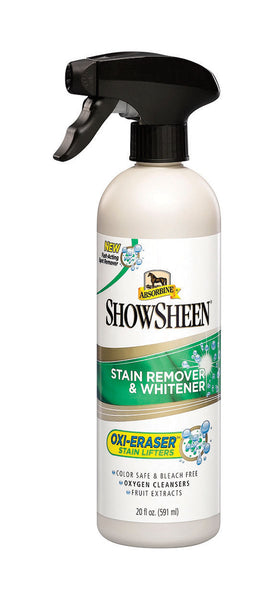 Absorbine ShowSheen Stain Remover & Whitening
£12.99
CODE: DC1936
---
With this patented formula, removing stains from your dogs fur has never been easier. The fast-acting and deep-cleansing solution is enhanced with Oxi-Eraser stain lifters  which efficiently banish tough and stubborn spots like mud or grass stains, leaving your dog fresh and clean.
Additionally, the stain remover is perfect for dogs with white fur or markings, as it helps to make it pure white and stain-free.
As well as cleaning your pup, the stain lifters help to nourish their coat and strengthen their fur, thanks to the all-natural ingredients like panthenol, green tea and fruit extracts.
The stain remover is colour-safe, pH-balanced and bleach free, to ensure that your dog is happy and safe while being cleaned.
Banishes tough dirt like grass stains.
Helps to clean white dog fur.
pH-balanced and bleach free.
Green tea and fruit extracts for nourishment.
Fast acting and deep cleansing.