Spikes Tasty Semi-Moist Hedgehog Food
£12.25
CODE: DCBP973047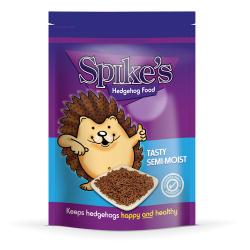 Spikes Tasty Semi-Moist Hedgehog Food
£12.25
CODE: DCBP973047
---
Spike's Tasty Semi Moist is a nutritious food for hedgehogs. Feeding the Spikes range gives hedgehogs all the vitamins and minerals they need to keep them happy and healthy. Providing extra care for them is particularly important as they try to store up enough reserves of fat to see them through the winter months.
- Hedgehog Hospital Approved.
- Tasty and palatable.
- Can be fed on its own or mixed with other hedgehog foods.
COMPOSITION:
Meat and Animal Derivatives, Cereals, Various Sugars, Oils and Fats, Yeasts, Egg and Egg Derivatives, Minerals.
TYPICAL ANALYSIS:
Crude Protein: 26%
Crude Oils & Fats: 15%
Crude Fibre: 1%
Crude Ash: 6.5%
ADDITIVES:
Nutritional Additives (per kg): Vitamin A 19000 IU, Vitamin D3 1900 IU, Vitamin E 110 mg; Trace elements: Ferrous sulphate monohydrate 133 mg, Copper sulphate pentahydrate 28 mg, Manganese sulphate monohydrate 94 mg, Zinc sulphate monohydrate 278 mg, Calcium iodate 1.6 mg, Sodium selenite 0.55 mg. Technological Additives: Antioxidants; Preservatives.
DIRECTIONS FOR USE:
Place in a shallow dish and put out before dusk in a quiet area of the garden, along with a shallow dish of water. A mature hedgehog can eat about 20g each night.
STORAGE CONDITIONS:
Store in cool, dry conditions away from direct sunlight. Once open ensure the bag is resealed to maintain freshness.
1.3kg